Sunday, May 27, 2012
The White Ribbon
The White Ribbon guy won another Palme D'or only a few years after his first.  That seems crazy to me, especially since I can't really remember much about the White Ribbon, even though I saw only a few short years ago.  I think I watched it with my then girlfriend who now lives in Sweden with a guy she met on the internet.  This movie just makes me think about how girls love euro dudes and their brooding intellectualism.
Don't get me wrong, I love Ingmar Bergman's tales of the "grand arc of life" and the "rich diversity of experience" (quoting myself, by the way), but a snowbound movie with furtive glances around a quiet scandal of beatings and molestation just doesn't stick to the ribs like it used to.
Also, when someone has a funny accent and different cultural context, it's really difficult to figure how stupid they are, or if they're an asshole.  I tend to think of that as a danger, but I guess one could use it in one's favour too.
I'm glad to add an easily accessible film to the *must watch* list though.
Speaking of which, I still have a few others that I need to see before I can fully finish this journey of self-discovery.  Drop me a note if you have any of them:
The Last Chance (Die Letzte Chance) -    Leopold Lindtberg
Men Without Wings (Muži bez křídel) -    František Čáp
The Mattei Affair (Il caso Mattei) -    Francesco Rosi
The Hireling -    Alan Bridges
Chronicle of the Years of Fire (Chronique des années de braise)    - Mohammed Lakhdar-Hamina
Additionally, I need subtitles for:
The Red Meadows (De røde enge)    - Bodil Ipsen and Lau Lauritzen Jr.
The Turning Point (Великий перелом, Velikiy perelom) -    Fridrikh Ermler


Wednesday, January 25, 2012
Eternity and A Day (1998)
Here I am, using topicality to put some wind in my sails and get to the business of writing about this epic journey of film watching.  I definitely watched this one alone in my little old studio on the bay, way back in sunny yet bleak San Diego.  Appropriately, this film concerns that very same sunny bleakness that only a Greek meditation play can deliver.  I'm beginning to sound like an IMDB user submitted review.  Let's consider this a low point.
As far as the purpose of this write-up goes, I will admit that this film had some extra fine child acting and a soundtrack that still resonates with me, almost 2 years later.  As for the sun bleached soul searching drone that was the bulk of this Sunday afternoon laze, I'll just straight up tell you that it wasn't really my style and barely sticks in my mind.
I do, however, remember watching Zorba the Greek, up in the north, in a place not too different than where I am now, dark, humid, stormy and very much alive.  It snowed in March with such vigor that the whole village lost power for a single moonlit night.  In a day or two the rain had washed everything back to green and blue.  Zorba is a much closer approximation of how I want to be in the world.  None of this moping around with Armenian boy gangs and having a beautiful daughter and being a few days from dying and other such crap.  I just want to diffuse a knife fight, dance and get in over my head, as much as possible, all the time.  I'm even watching films with gusto.  In this lifetime, I'm hoping to cram in about infinity + 1 more. 
Monday, November 28, 2011
The Wind That Shakes the Barley (2006)
All political Irish movies make me feel like I'm 12 again.  This is partly because of the staggering simplicity of emotions behind occupation, either as a black and white struggle between oppressors and oppressed or the brutal separation between men and the institution.  These were our feelings when we were 12.  That's why I did a stamp report on WWII and really liked 'The Commitments', despite that movie almost ruining R&B and soul for me.  So there I was, watching The Wind That Shakes the Barley and missing my parents and our uncomfortable living room couch.
As always, egregiousness was a comfortable feeling from my well covered bed, totally separate the busy freeway driving madness that is the overwhelming outrage of true injustice.  This film was a real relaxing ride.
Thursday, November 17, 2011
La stanza del figlio (2001)

The Son's Room is a rather lighthearted romp through the fatherly crisis surrounding the death of a teenage son.  I related to the father, just because I want to be him.  He's a corduroy pant, sweater, tweed jacket psychotherapist who's good to his wife.  Keep in mind that I write this from a FedEx/Kinko's in a mini-mall near the freeway.  The traffic was so bad that I couldn't bear it and pulled into this wi.fi. (I'm trying to start something new) cove of safety.  It's rush hour.  There is a protest.  I forgot to take surface streets, as I usually do.  I've grown soft since pushing my commuting hours into 7, 8, 9, 10, 11… 
The Son's Room was a wonderful feeling of sadness.  It's a place in my mind where I go to understand depression or frustration.  It's one of the few films that shows me how wonderful and rich life is through the crushing weight of death and tragedy.  I adored the Son's Room, alone.
It's not the gritty darkness of stabbings and scabs, but the darkness of ocean stranding, insurmountable desert, decay, utter loneliness and despair, that I see as necessary or maybe just 'by definition'.  Go into it.
The internet at FedEx/Kinko's is super slow.
Tuesday, August 23, 2011
The Conversation (1974)
This film is stored in my memory on the same neurons as The French Connection, The French Connection II, and the not-lame parts of Super Fly.  There's also a diamond heist film in there somewhere too.  These were all viewed on a living room television that was bought during a boxing day sale of my youth.
Although Gene Hackman movies and 'gritty' crime movies appeal to my universal sensibility, The Conversation taps into that particular part of me that is in love with the audio world.  I actually don't remember the plot explicitly, but it goes something like this: Gene Hackman PI/New York City cop, records a conversation either using a bullet microphone and a dish or a wire tap, and then slowly unravels police corruption or what-have-you while the supposed forces of good slowly reveal themselves to be evil.  Any film where an audio recording is a central character is alright in my books.
Also, there is a really amazing rooftop shoot out scene that involves a baby carriage.  I was probably 12 when I last saw this.  Obviously, in the end, Gene gets the number one Frog.
Clearly, this film greatly influenced my life path.  I became an acoustician.  I'm constantly searching for 'grittiness'.  I pretend that I'm Gene Hackman when I'm in France.  I just want a goddamn Hershey bar and a hot dog with regular yellow mustard, relish and ketchup.
Wednesday, August 17, 2011
Orfeo Negro (1959)
Two nights ago I went to a San Diego Padres baseball game as a member of the 'home plate club'.  We sat two rows behind home plate.  We ate at a buffet before the game.  We had constant in-seat service to bring us cotton candy, cracker jacks, pizza, piping hot pretzels (if it's piping hot, then how are you holding it?), candy, drinks, sushi, ice cream sandwiches and hot chocolate (simultaneously) and anything that we could think of to ask for.  I was the guest of a doctor who has saved the life of an important executive resulting in the gift of these incredible and ridiculous professional sports league tickets.  We were celebrating the fact that I had just become a doctor - not the REAL kind, just the regular kind.
On the real night of me becoming a doctor, I walked across El Cajon Boulevard to 7-11 and decided that I wanted, at all cost, to see the film Bruno (to make a long story short, I had already seen Bruno but had forgotten, due to the fact that every joke in it was very forgettable).  At that one moment, I lamented the death of the video rental store only to be shown the Blockbuster, still open, across the street.  We didn't go in but I was instantly flushed with Blockbuster memories and my discovery of 'the classics'.
The nature of the mainstream chain video rental store was 40 copies of every new release and a handful of videos each representing drama, action, comedy, family and maaaaybe foreign.  In the winters of 2003 and 2004, my lover and I would trek a single block and sample those representative films.  Black Orpheus was one of those nights.  It was watched on a computer that was wheeled about on a little stand to be made visible from bed.  Mike & Ikes were probably consumed.  The wonderful soundtrack was played through the stereo speaker, mounted on stands made from PVC, paving tiles, dry cement and hand screwed screws poking through some plywood, acting as little isolating feet.  I later bought the LP and tried to copy it.  I'm still trying to copy it.
Wednesday, June 15, 2011
Tree of Life (2011)
Excerpt from an email written the following day:
"…the film contains 1) characters whispering to god "Where are you?" "Why did you let this happen?" "I forgive you" "He was in your hands" etc etc etc.  2) A doorway in the desert that the main character is hesitant to walk through. 3) footage from the hubble telescope 4) a CGI sequence that symbolizes the beginning of life on earth/DNA.  5) gratuitous use of waves and water in symbolizing life and the power of nature 6) footage of a volcano erupting into the sea 7) 'heaven' represented by people walking around hugging each other on a beach at sunset 8) CGI dinosaurs 9) shots of cells splitting/water droplets combining 10) time elapsed shot of traffic on a busy street."
I saw this on the same day that I didn't watch a hockey game, which isn't really a meaningful thing to write, but contextualizes the sports nature of the time of this film.  Seriously, Victoria was a ghost town during the Canucks Stanely Cup run of 2011.
Wednesday, April 6, 2011
Othello (1952)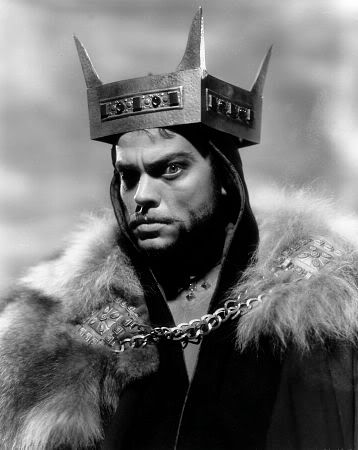 Everything in life is a challenge.  The problem is that our choice to try or to not try is more or less inconsequential.  So there's either a problem in the way I define challenge or the way I view moral causality.  Judging by my pervasive bitterness, it would seem to be the latter.
Thank god Othello isn't a person.  It is just a movie that I sat and watched and didn't necessarily absorb.  Hardly absorbed.  It was a shower during which I washed my hair a second time, because I couldn't remember if I had washed it a first time.
Should I begin to treat a person the way I viewed this film, speak of me as I am.
Tuesday, March 8, 2011
Sex, Lies, and Videotape (1989)
In my world, this cover is as old as time immemorial.  For obvious reasons, it was noticed at a young age.  At some later point I tried to legitimize the interest by reading the synopsis.    I'm pretty sure that on the day that I read the back cover, my mum ended up renting Secrets and Lies, which I admittedly found quite boring at the time.  However, in the interest of preserving my serious front, I watched it, reflected upon it and supposedly enjoyed it (but did re-watch it for this project, unlike say 'Apocalypse Now' which got the full attention & analysis the first time through).
The video store was called Xanavision and had a tiny closet size pornography room which I did not have any sort of teen awakening or intimacy shaping experience with-in.  Later it was put out of business by Videostop which was one mini-mall and half block away.  Between the two was a 7-11 which holds a time capsule's worth of candy, pop and chip memories.  Watching Sex, Lies and Videotape did not re-fire any of those neurons.
I will say something about this FILM though.  When two characters speak on the phone to each other, the phone voice is in crystal clear, full quality, close mic'ed glory.  This makes for good internal laugh out louds (like in a chat, when you type LOL because you know with 100% certainty that you would LOL if it was in real life context, however, being alone at a computer, you're just not going to actually laugh out loud no matter how funny something is).  Also, there is costume in this film straight out of 2010.
Thursday, March 3, 2011
The Knack… and How to Get it (1965)
After watching Due Soldi di Speranza and counting the remaining Palme D'or/Grand Prix winners that I had left to watch, I became a little bit panicked!  15 more to watch! I've been working at this list for almost two years and although my movie intake has not decreased from those early days of non-stop hits, my consumption of winners has fallen to near zero.  This is partly because most of the remaining movies are impossible to find (i.e. torrent searching, netflix, interlibrary loan have convinced me that these films were never released on DVD).  However, a few of these stragglers are just titles that I find totally unappealing and have been putting off watching for a very long time.
This is where the panic helps.  After a few too many cokes and an amazing night, I fell into bed with absolutely no intention of sleeping.  Slowly the worries of the world crept over me and I needed either distraction, or to take action and conquer these anxieties.  Herein, the idea to watch The Knack… and How to Get it. 
If I fail at all else in life, I can at least try and watch a bunch of movies on a list, and then maybe write a few totally meaningless, empty, useless, grammatically incorrect and un-proofread words about them on a computer that will hopefully stay connected to the internet for a time comparable to the existence of the Angelfire servers.
So I forged ahead into this annoying little film about Benny Hill, the Beatles and sexual innuendo.  It's not actually about Benny Hill or the Beatles, just feels like it should be.  I made it.  I laughed.  I was aroused.  It probably encouraged me to be 0.01% more bold in life.  Not bad.
Can you believe I still haven't watched Sex, Lies and Videotapes?